Before beginning your search for Austin real estate, it's helpful to narrow down the kind of home you're hoping to buy. Whether you're looking for an ornate Victorian mansion or a cozy Craftsman bungalow, deciding the style of home you desire will help you narrow down the best Austin neighborhoods and establish a budget.


From sleek suburban residences to majestic stone abodes, below are five of the trendiest home styles you're likely to find in Central Austin or West Lake Hills.
1. Ranch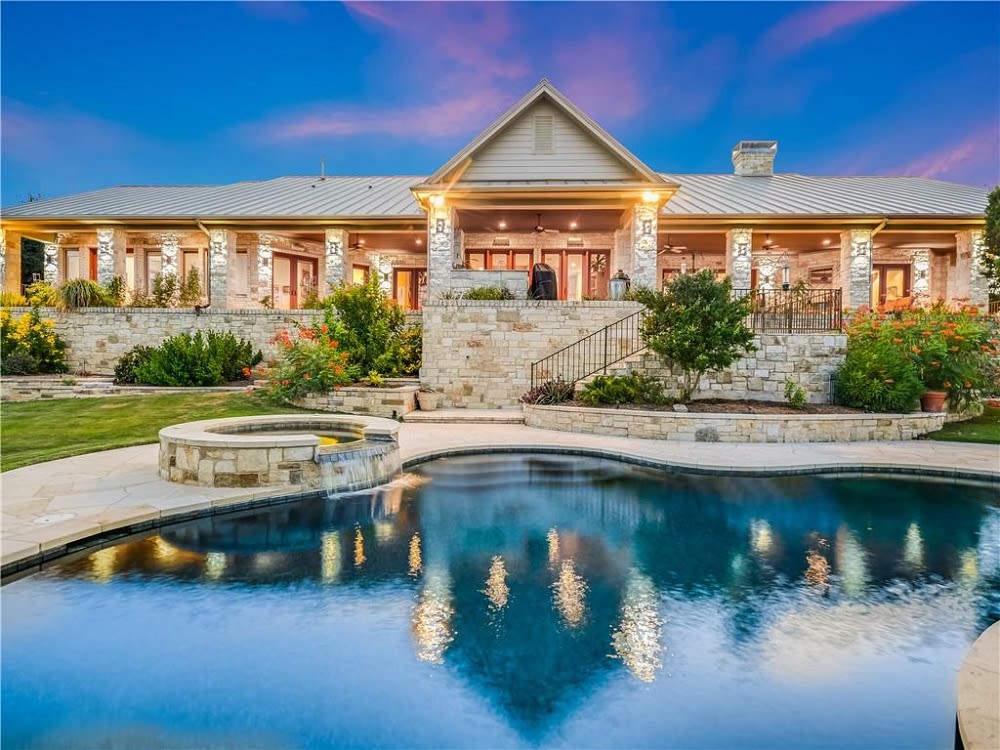 Photo courtesy of Drew Marye
Dating back to the early 19th century,
ranch-style homes
originated in the U.S. and gained popularity in the American West, making ranch homes a natural fit in Austin. The relatively simple layout of older ranch homes makes them ideal for customization. The above house on Sandcastle Drive is located on Lake Travis.

Another feature of ranch homes is their wide-open layout. It's typical for ranch homes to come with large lots of land. What privacy you have correlates with lot size. For example, the Sandcastle property has a lot size of over six acres, and the house is located near the lot's geographic center. With lakefront ranches, the land typically slopes downward as you near the lake, offering additional privacy.

The flat aesthetic of ranch homes commonly yields unobstructed views, cool breezes, and the potential for dramatic contrast between old trees and typical one-story ranch houses. Over the decades, designers of ranch architecture have become more experimental with vertical elements of these homes, integrating features like cathedral ceilings, varying roof lines, and sunken living rooms. You may even find beautiful two-story houses of the ranch style, referred to as raised ranches.

The Sandcastle ranch was built in 2004 and incorporates a wealth of specialized design materials: cherrywood, limestone, mesquite, granite, and quartz all make appearances. The home's layout emphasizes food and entertainment across multiple living rooms, a bar, and a gourmet kitchen with two islands, double sinks, and three dishwashers.
2. Mid-century modern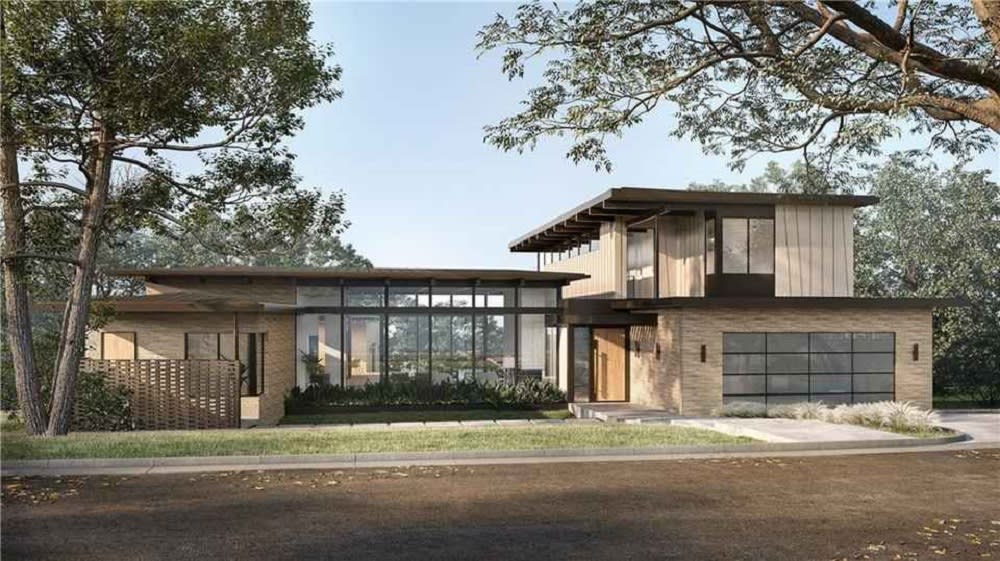 Photo courtesy of Drew Marye

The mid-century modern architectural style boomed after World War II and saw a revival this century in the form of homes incorporating its signature elements: clean geometry, minimalist decor, and the integration of the immediate natural environment.

In Austin, these homes have a primacy of open spaces and large windows yielding beautiful views. The residence featured in the above photo, dubbed the Laurel Canyon Residence, was designed by the award-winning firm CoXist. At nearly 5,000 square feet, this home shares elements with ranch-style architecture. In contrast to ranch homes, many mid-century modern homes, including this house, are split-level and feature short staircases between rooms. Its layout prioritizes wide sight lines and warm natural light, making the home ideal for families with children. Indeed, with a spacious family room and pool area, there is more than enough area to entertain large extended families.

Even older mid-century modern homes tend to be friendly to smart home technology, and because their decor is minimalist, the rooms are versatile and relatively easy to stage. Regarding mid-century modern Austin houses, what you see is what you get.
3. Bungalows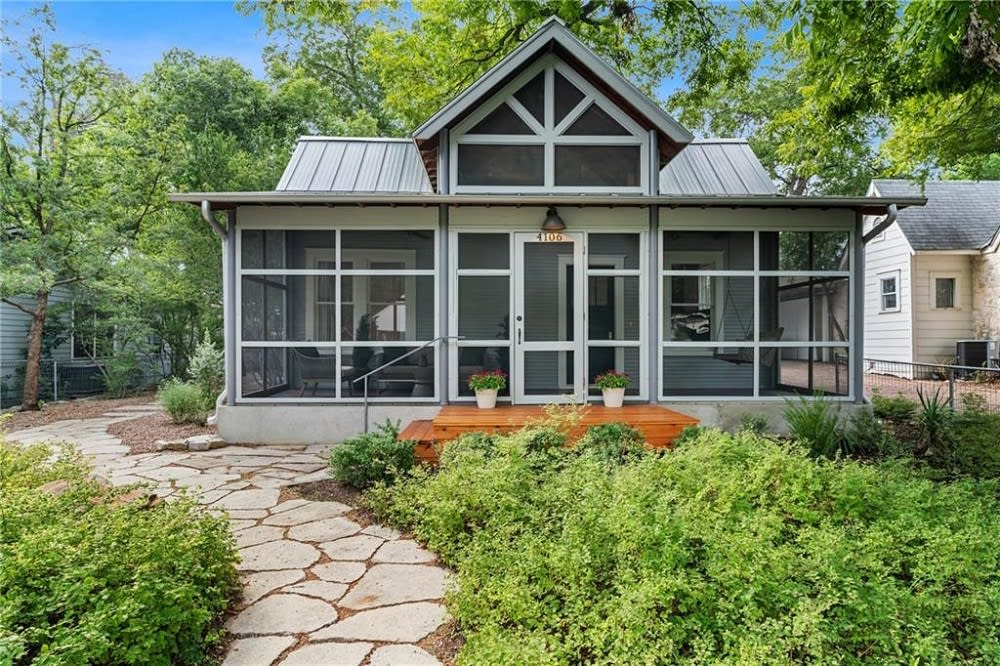 Photo courtesy of Drew Marye

After the British built the first bungalows in 19th-century India, the style spread like wildfire to Australia, Canada, England, Germany, Ireland, South Africa. Bungalow homes may be one or two stories, and because they comprise simple design and sparse decoration, the bones of these houses, many of them historic, stand out.

Located in nearby Rosedale, the house in the above photo was constructed in 1929 and has since seen renovations and additions. In keeping with the times, the bungalow features oak flooring, floor-to-ceiling bookshelves, and a grand fireplace.

Other notable property highlights include:


Cedar backyard deck
Screened-in front porch
Kitchen outfitted with new appliances
Like most bungalows, the 1929 house draws visitors in with charming curb appeal. Here, native plants are landscaped into the lush front yard, and the backyard has two ancient guardian pecan trees. Though the house is on the small side for Austin luxury homes, the front porch, backyard deck, and recent renovations make it a fit for homeowners who prefer the bungalow style.
4. Traditional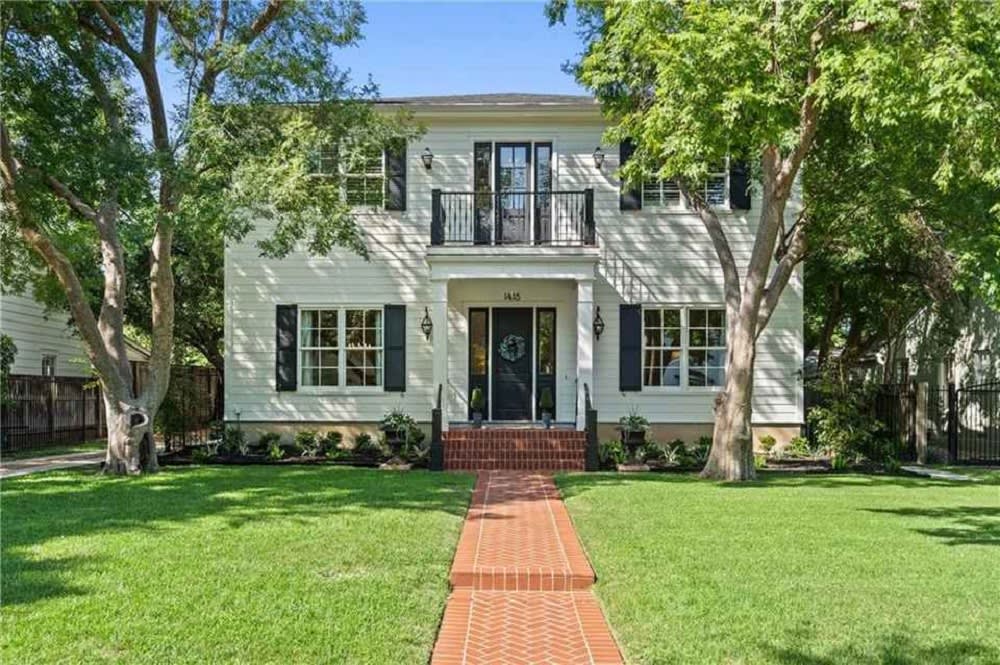 Photo courtesy of Drew Marye

You won't find a more popular style in the U.S. than traditional architecture. While the name suggests adherence to old principles, architects of traditional architecture homes mix and match traits of several styles of antiquity alongside modern elements of home design. In other words, there is no one blueprint for traditional houses.

True to form, the traditional home featured in the photo above weds modern finishes with an Old West sensibility. The four bedrooms and bathrooms are dispersed throughout the home, as are high ceilings, wood flooring, and symmetrical windows.

You can disappear into the large study (complete with bookshelves), and guests may stay in the detached back house. Meanwhile, the exterior of the home blends easily into its surroundings with a clean roofline and twee front balcony.
5. Contemporary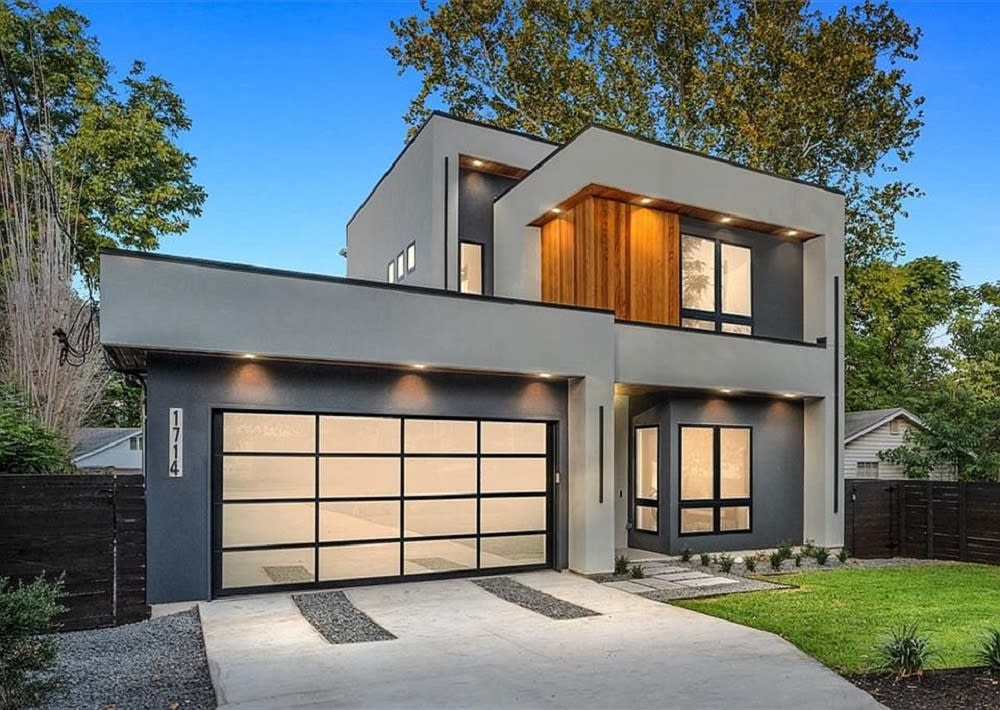 Photo courtesy of Drew Marye
Contemporary homes
encompass a variety of styles that focus on geometric lines and simple forms. Distinguishing home features include open floor plans, glass elements, and innovative designs. Without the frills of other styles, contemporary homes allow for a unique blend of colors, materials, and textures.

The house above is a contemporary pool home built by Paradisa Homes. Surroundings its open floor plan are windows and doors strategically placed to maximize natural light and encourage flow out to the pool, which is heated, and spa area.
What's more, this contemporary home features smart home automation, increasingly common among other home styles. Even so, luxury contemporary homes need not break the bank: modern amenities like
Tesla solar panels
don't necessarily cost more in the long run.
The Marye Company

*Header photo courtesy of Shutterstock