If you're ready to take your interior design skills to the next level, it's time to get up to speed with the latest trends. This year, we've seen a lot of exciting new color combinations, as well as some unexpected renovation materials. And while it might seem like there's nothing new under the sun when it comes to home decorating, we're here to prove you wrong. In fact, there are some fascinating developments in the world of interior design that you need to know about right now! Whether a bold statement wallpaper or a chic new rug, here are 10 of the most curiosity-peaking home trends and design elements that are sure to make any room feel fresh and in style.
Golden accents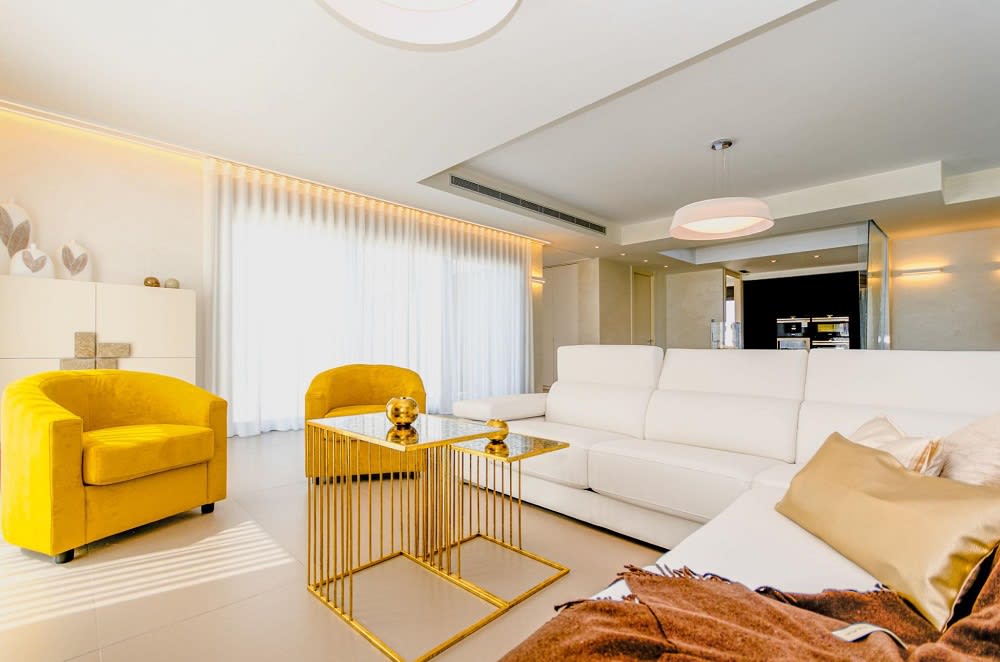 Photo courtesy of Unsplash
Golden tones are perfect for any room that needs a bit of glamour, but they work well in every room in your home. They're warm and inviting and give a sense of richness and depth. Gold can be used in various shades, from ancient gold to bright yellow-gold, and in different textures and saturation levels. Gold accents can be added to almost any room in your home, from the kitchen to the bedroom, making this trendy decor element perfect for spicing things up. If you're looking for a way to make your home feel more opulent, consider adding golden hues to your decor. These warm, rich tones will instantly elevate your space from gilded accessories to metallic walls.
Convivial furniture
In this new era in furniture design, seating options are all about motivating in-person conversation. The goal is to bring people back together again, and it's working! Convivial seating is neither a sofa nor is it two individual chairs but rather a combination of the two — a type of hybrid that can be easily rearranged to accommodate different groups of people. It's a great way to create a flexible space that encourages guests to interact with each other and contributes to a sense of community over a cocktail or tea.
Luxury laundry rooms
The designer treatment will extend to laundry rooms. In the past, these areas were often overlooked and neglected, but we're seeing a shift in that line of thinking among homemakers and interior designers. Laundry rooms are becoming more functional and beautiful than ever before. The luxury laundry room is all about the details: the right lighting, a custom sink, and carefully selected wall color and storage elements make all the difference.
Heavier nods to natural lighting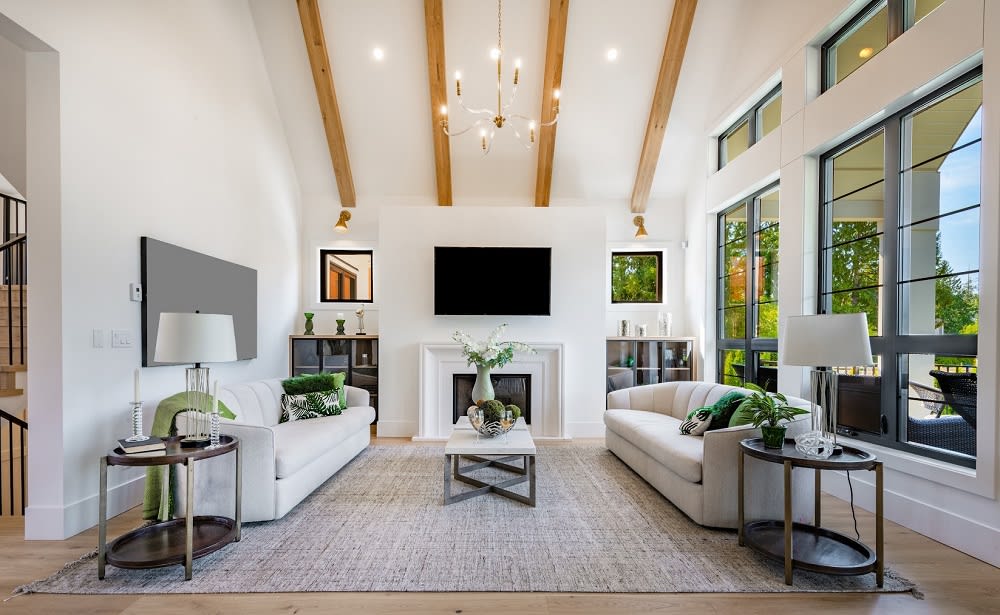 Photo courtesy of Shutterstock
Natural light is the best kind of light, and the trend is to bring more of it indoors! In fact,
studies show
that the more light you get in your home, the happier and healthier you are! There are many ways to incorporate more outdoor lighting, from adding skylights to ditching traditional window treatments like drapes. White tones and reflective materials can boost an area's natural lighting. It's a fantastic way to make a space feel larger and brighter without having to add artificial lights.
Alfresco home spas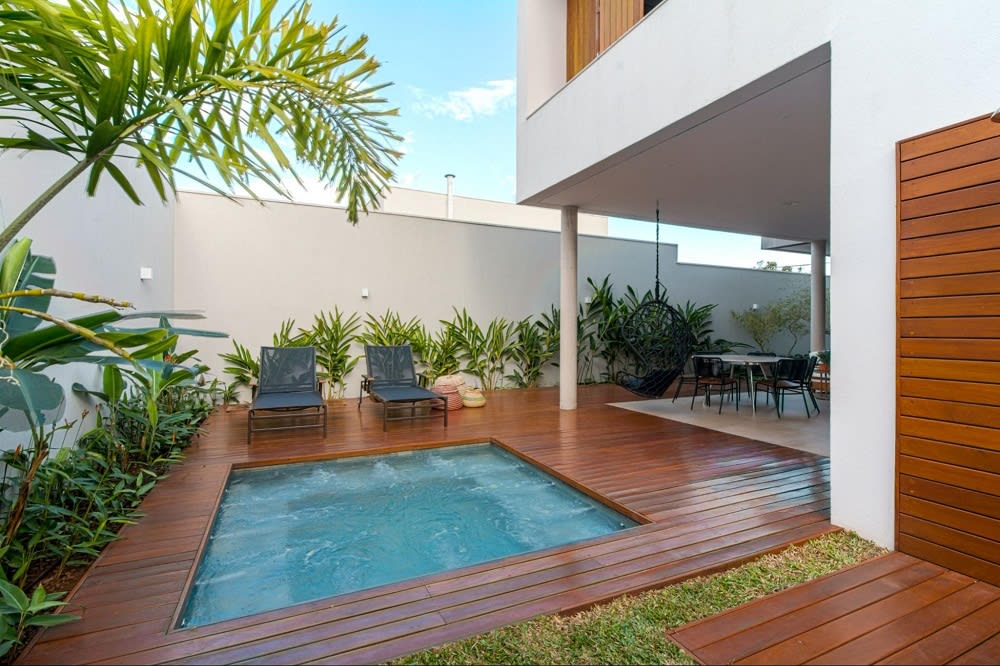 Photo courtesy of Pexels
These outdoor bathing spaces are designed with relaxation in mind. They may include features like hot tubs, saunas, and lush shower rooms that homeowners can enjoy at any time of the year. Alfresco home spas are built with various materials, including synthetic grass, concrete, or tiled surfaces. Artificial grass is popular due to its durability and weather resistance, while concrete or tiled surfaces are suitable for use with hot tubs and other water features. However, real plants add a touch of au naturale authenticity.
Unconventional carpeting
One of the most noteworthy trends in making bold statements in the interior design world is irregular mats and rugs. These unconventional floor coverings come in several eclectic styles, shapes, and sizes. This trend is perfect for people who love to stand out or aren't afraid to push the boundaries with decorating styles. Rugs are a great way to add a layer of pattern and texture to any space and a bit of unexpected visual interest that's sure to command the floor.
Contemporary curves
Designers are ditching the hard-edged pieces that are so prevalent in modern decor for softer contemporary curves. Rounded edges in everything from furniture to lighting fixtures to accents and decorative pieces are all the rage right now. Kitchen design is the most notable place where this style is finding its way into homes. The new trend involves more curves than ever, with soft shapes found on countertops and cabinets and in lighting fixtures and ceiling designs.
Multifunctional alcoves
Alcoves and niches allow homemakers to create a more intimate environment in a large room. The design element can serve as an original focal point for a room and can be used for additional seating when you need extra space to entertain guests. The right niche can be used as an elegant place to display art or as a cozy nook for reading. In addition to creating a unique space, alcoves and niches are a great way to hide clutter and make the home more functional by acting as an extra storage area.
Indoor gardens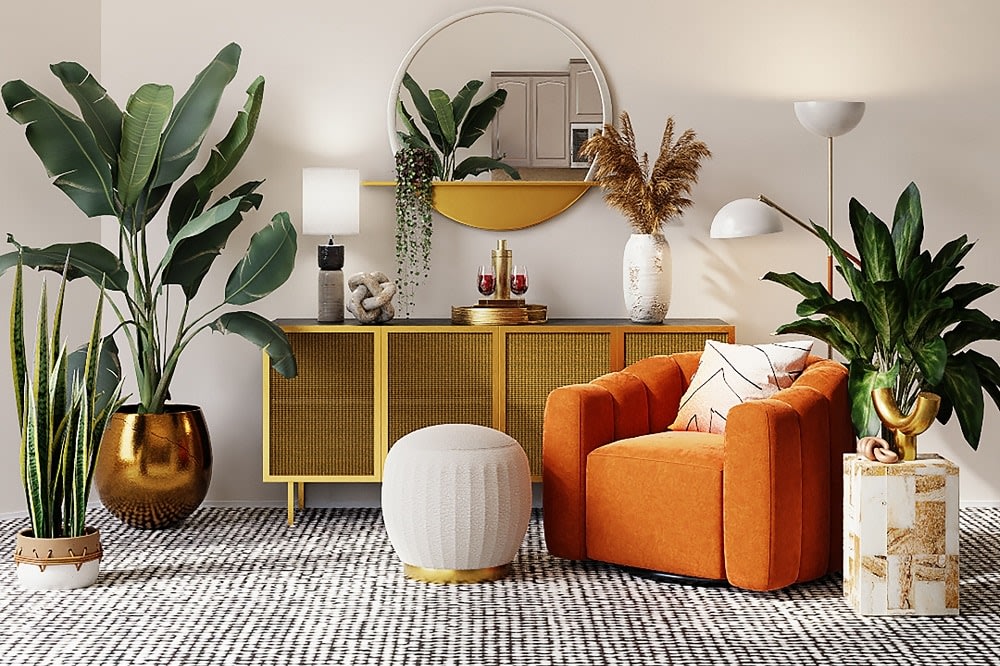 Photo courtesy of Unsplash
Indoor gardens are a unique way to bring the outside indoors, and they are on-trend as sustainability and organic aesthetics continue to drive design. They provide a calming, peaceful environment, accentuating other design elements in your home. These interior gardens can be as simple as a few potted plants on the kitchen table or a full display in your living room. Whichever style you choose, indoor gardens are an elegant way to make any space feel zen and earthy. The best part about indoor gardens is that they're easy to maintain: just water your plants regularly and give them plenty of light! You can even DIY your own indoor garden with succulents, moss, and pebbles.
Cork flooring
True to its roots as a natural material, this trend relies on the same principles of sustainability that made it famous in the first place. While the orange cork tiles of the 70s may have come to mind when you heard about this trend, keep in mind that modern versions are a little more sophisticated. Cork has become increasingly popular recently because it's incredibly durable and great for the environment. The material doubles as a fantastic insulator, meaning lower energy usage.
The best way to find the right interior design trend is by keeping your eye on the future and your mind open to new ideas. Don't be afraid to try something new or to experiment with different techniques and materials. With these trends in mind, you'll be able to create a space that reflects your unique personality and style and will keep you inspired for years to come.
If you're looking for a home that reflects your unique personality and lifestyle, the Marye Company is the real estate firm for you. Our team specializes in
eclectic homes
in the Austin area, so whether you're looking for
mid-century modern homes
or top-floor condos, we'll help you find your dream property.
Contact us
today.
*Header photo courtesy of Shutterstock