It is a bright, beautiful day in Austin, Texas, the temperature is ideal for an outdoor adventure, and the weekend is an endless stretch of uncommitted time. How should an individual or family fill the hours?
Fortunately, there are many things to do in Austin this weekend. A person could take a shopping tour, enjoy an educational experience at a museum, or go to the movies, but on days of fine weather, there is one activity that stands above all the rest: Lake Travis, Austin. Austin residents or visitors can explore the many things to do at Lake Travis and have a fun and memorable few hours, afternoon, or a couple of days.
Waterloo Adventures
One exciting activity for children and adults is Waterloo Adventures. A waterpark built directly on the water of Lake Travis, the park covers 600 feet with a challenge course featuring more than 20 obstacles, such as monkey bars, hurdles, bridges, climbing walls, slides, balance beams, and more. The admission fee includes 45 minutes on the on-water obstacle course, unlimited access to Adventure Island, and a boat ride to the island. The island offers a 24-foot trampoline, free fall slide, and springboard jumping tower. It also provides food, wine, and frozen drinks. Waterloo Adventures is a kid-friendly thing to do in Austin, as well as a fun time for adults.
Lake Travis Zipline Adventures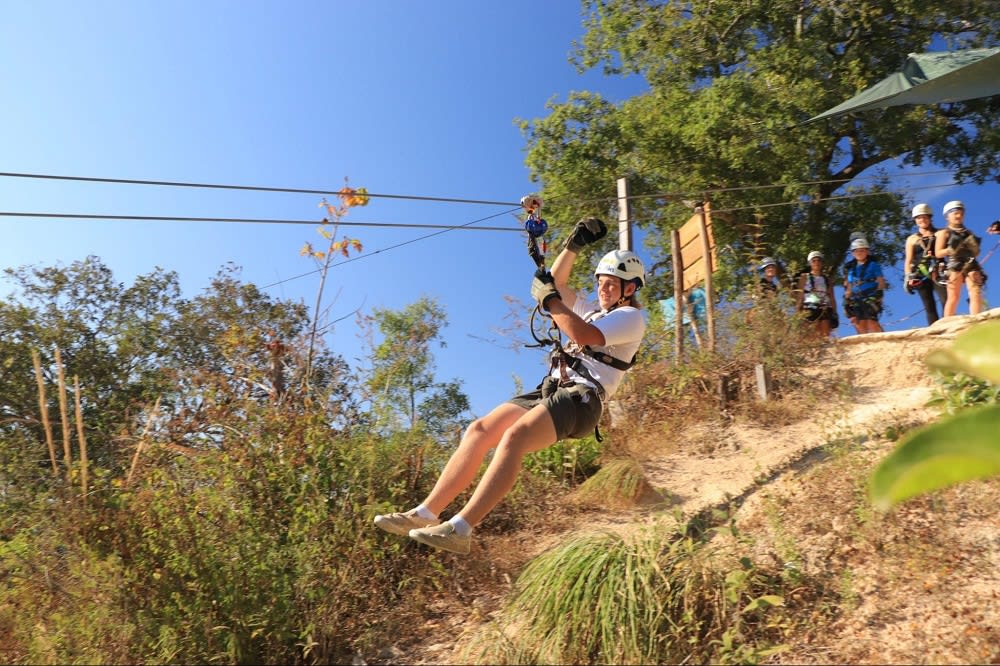 Photo courtesy of Unsplash
The sister park to Waterloo Adventures, Lake Travis Zipline Adventures, is found to the north of Lake Travis' Cypress Creek Arm. The park offers five zip lines of varying sizes, from a mild 250 feet for beginners to over 2,800 feet for the expert adventurer, which is the fastest and longest zipline in all of Texas. With a stunning view of the Texas Hill Country and Lake Travis, this zipline launches over a cliff 20 stories high before coasting through the air above the lake. The park includes boat transportation, light snacks and water, all necessary equipment, and access to a private beach for picnicking, swimming, playing games, and relaxing by the water in a hammock. Having opened in 2011, Lake Travis Zipline Adventures is one of the most popular fun spots on the lake for those seeking a bit of a thrill.
Lake Travis BARge Crawl
During the summer, a popular boating adventure is offered every Friday from 5:30 to 10:30 pm. The best bar crawl on Lake Travis, customers travel from Beachside Billy's to Shack 512, all the while enjoying stunning views, scrumptious food, special drinks, and live music on the expansive pontoon boat. Due to the alcoholic nature of the endeavor, all passengers must be 21 or older. Public rides will include up to 10 people, while a private boat ride allows for 14 guests.
Watch the sunset at the Oasis
Known as the Sunset Capital of Texas, the Oasis is a popular restaurant sitting 450 feet above the lake, famous for its terraced views of Lake Travis' breathtaking sunsets. Built in 1982 and currently the largest outdoor restaurant in the state, the Oasis began as a ranch and now covers 30,000 square feet. In addition to the stellar sunset vistas and fantastic food, the restaurant also provides one of the most creative live music venues on Lake Travis, with both the intimate outdoor Beau's Backyard and the luxurious, expansive indoor Starlight Terrace presenting lively shows on summer weekends.
Jet skiing and wake surfing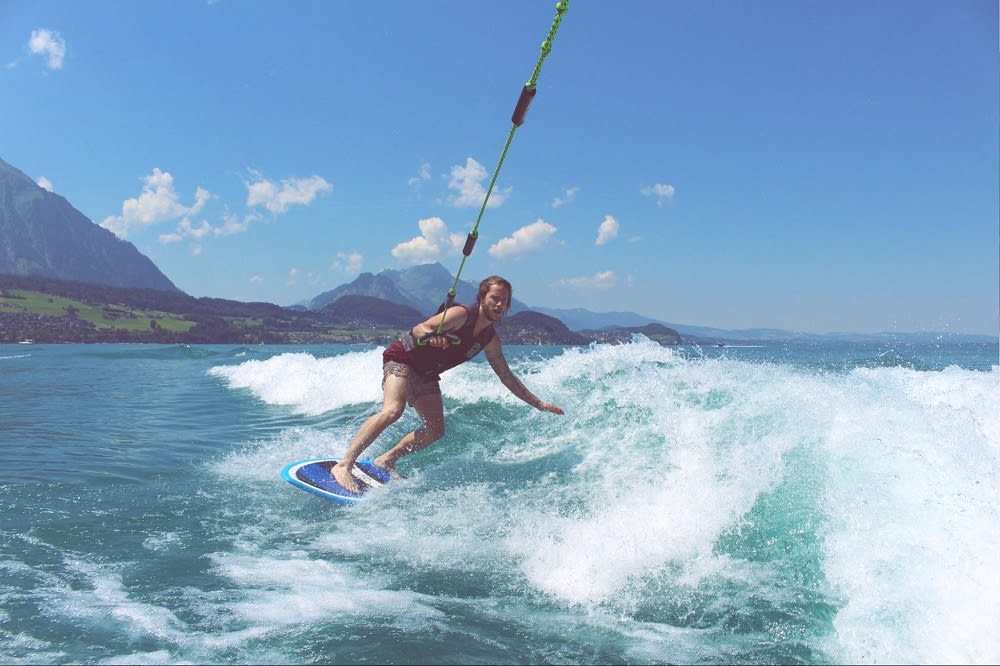 Photo courtesy of Unsplash
For those who enjoy speeding along the surface of the water and breaking through the waves, there are opportunities for jet skiing and wake surfing on Lake Travis. Guests over 18 can drive the jet ski, or they can work with a partner. Many people visit the lake to experience the excitement of fast water sports.
Boating
Of course, a lake is not complete without opportunities to sail. Lake Travis boasts more than 50 operational boat rental services on the lake, offering a wide variety of boat types and sizes. Whether the customer is looking for paddle boards, runabouts, kayaks, sailboats, pontoons, party barges, houseboats, or luxury yachts, Lake Travis will provide them. Here, you will find bareboat rentals that you can drive and navigate yourself or captained or chartered rentals if you'd rather just sit back and enjoy the views. Many rentals will also provide water toys.
Scuba diving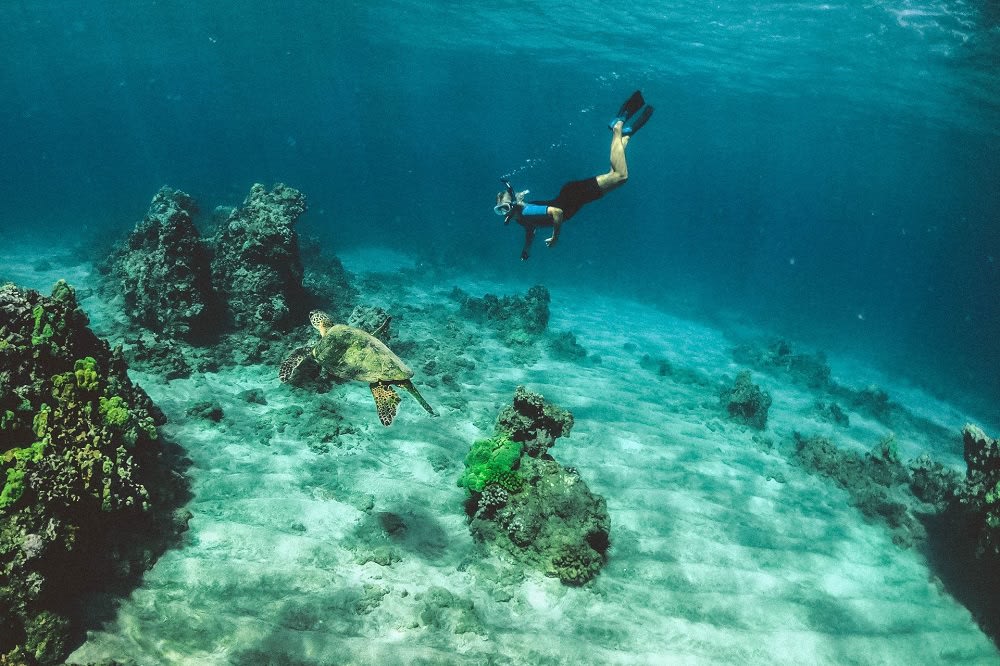 Photo courtesy of Unsplash
A unique and adventurous activity, Lake Travis also offers an opportunity for scuba diving. Windy Point Park offers visitors the chance to explore the floor of the lake, enjoying the water life and many sculptures and boat wrecks. No one scuba diving trip will be the same as another.
Fishing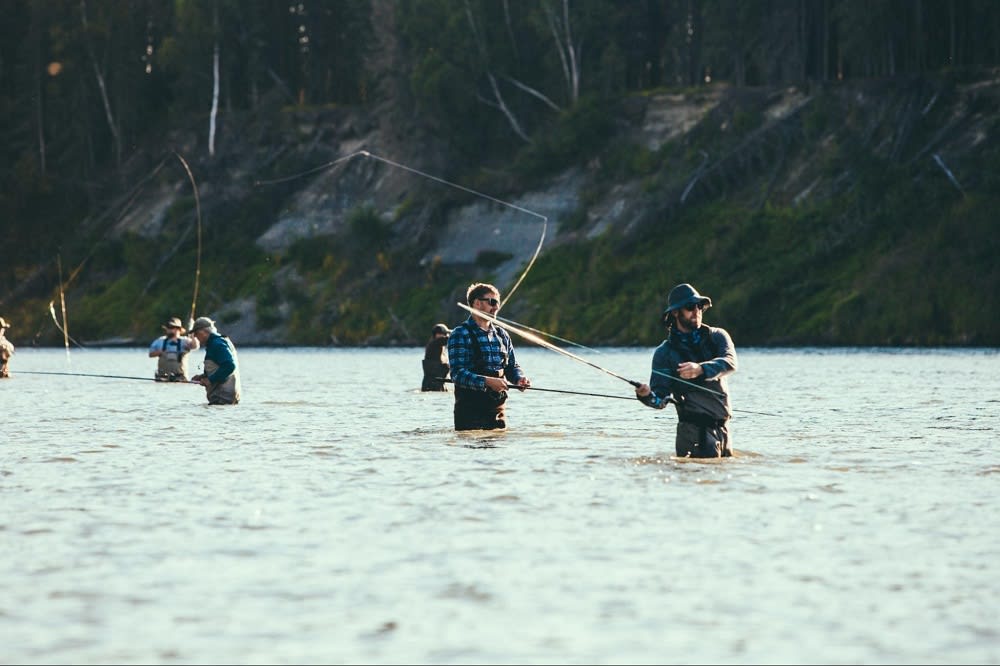 Photo courtesy of Unsplash
There are many places, inlets, and coves to fish on Lake Travis. Guide services will assist guests in finding a great spot for fishing, depending on what they are hoping to catch. There are also many fishing tours available.
Hiking
There are many hiking trails around Lake Travis of varying levels of difficulty. Hikers can travel through beautiful greenery around the lake, allowing them to enjoy and observe nature. Some trails even go past waterfalls and water pools. Several hikes take three to four hours and are ideal for a picnic. Some of the most common hiking trails are the Panther Hollow Trail, Fern Trail, and Canyons Trail.
Camping
Photo courtesy of Unsplash
With several campsites and campgrounds available for guests around the lake, camping is a great lakeside activity. Planet Rock offers a top-notch opportunity for glamping, while Windy Point Park attracts traditional campers. Camp Creek Recreation and Pace Bend Park are other popular campgrounds. Campers can enjoy a variety of activities, proximity to nature, and beautiful views.
Team up with Drew Marye
If you are in search of an exceptional Austin real estate agent,
Drew Marye
is your go-to. As the founder of The Marye Company with more than 30 years of experience and a passion for making deals, Drew is well-versed in what it takes to succeed in the competitive
Austin real estate
market. The company is dedicated to providing expert negotiation skills, fantastic customer service, and groundbreaking marketing plans.
Reach out today
.
*Header photo courtesy of Unsplash